When Do We Ship?
We do not make firm promises of plaque completion time. We do not make firm promises of delivery date. Things happen. our suppliers don't ship, things break, power goes out, trucking company doesn't show up. blizzards occur, tornadoes happen, people get sick, cars break down, life happens, etc, etc. We will do our best at our facility, but once it leaves us, we have no control of the shippers and customs and whatsoever.
Metal coated HDU signs ship 3 weeks from payment and or design approval whichever is latest.
Cast Plaques ship 3 to 6 weeks from payment and or design approval whichever is latest.
Shipping Carriers
Our normal shipping method are USPS, Fedex Ground or UPS Ground Service. Our signs and plaques comes from zip code 81416 Detla, Colorado.
Canada and other international countries will take longer. Canada can take up to 2 weeks.
The following Fed Ex Service Chart will give you a good idea of shipping times. While this is for Fed Ex Ground, other shipping methods are pretty close.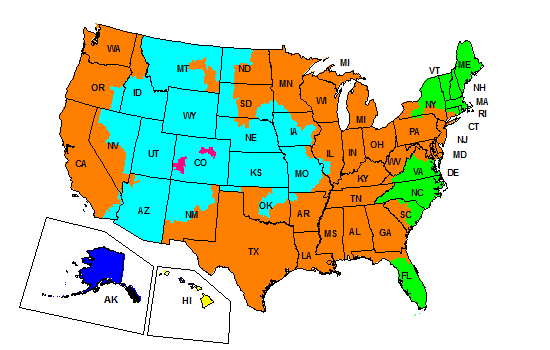 Shipping Costs
Atlas is using  Flat Rate Shipping on as many signs as possible. Flat Rate Shipping rates are  based on the dollar value of the order and are valid for shipping to the contiguous 48 states. The only catch is that we choose the shipper. Your package from Atlas could be shipped USPS, FedEx Ground, or UPS Ground. All are good at what they do.
At checkout BEFORE you enter payment information you will see the shipping rate.
Require Faster Service or Desire Another Carrier?
One way to get your product faster is to have us ship Next Day Air, 2nd Day Air, or 3 Day Select. This is for shipping only and does not account for the time necessary to create your sign or plaque. We can also accommodate requests for shipping via FedEx or USPS.
We may offer to get an approximate cost estimate for truck shipments. For truck shipment prepaid by Atlas, we will charge you for an additional amount if final billing exceed the amount you prepaid. You do have the option of selecting your preferred carrier, however, we may require lift gate services on our end which can be a factor. For international orders you are responsible for any tariffs, taxes and any other fees associated with your location.
Incorrect Shipping Addresses and UPS Address Correction Fees – To help prevent delivery delays, please double check the shipping address prior to submitting your order. The most common mistakes made when providing us with a shipping address are incorrect zip code, missing company name, missing suite or apartment number, and wrong street number.
In all fairness, packages that are returned to us because of an incorrect or incomplete address will be charged shipping charges again when your package is reshipped. In addition, any fees billed to us by shipping agencies for address correction or address change will be charged to you when we receive them. UPS bills $5.00 for correction of each ground package and $10.00 for correction of each air package regardless of how minor the address correction may be.
Other Important Issues – We complete our projects on time and ship in a manner and time that will get your order to you as requested. However, we are not responsible for delays caused by weather, wrecks, strikes, strife, or anything out of the ordinary that might affect shipping times.
Specific Delivery Requests: Unfortunately we can not accept requests for a parcel carrier to leave a package without signature or at a specific location at your home (for example, your garage, backyard, front porch, hallway, with the neighbor, etc.). If you have a specific delivery request, we suggest placing a note on your door for the parcel carrier with your request and signature.
Packaging
We package our products with care and use quality new boxes with plenty of padding. Sending a gift? We can include a card at no extra charge. No pricing is included in any of our shipments. Don't forget to include a gift message and and the givers name so they know who to thank!
Signs and Plaques are Breakable – Yes they can Break. Although our terrific products look like they are cast in solid metal, they are made of a space-age material that is breakable. If you drop it before it is secured to your display surface, it may break or be otherwise damaged.
Damaged During Shipping URGENT AND IMPORTANT
Atlas Signs and Plaques packs all shipments in a careful and thoughtful manner. Atlas Signs and Plaques is NOT RESPONSIBLE for damage occurring in transit including any CONCEALED DAMAGES. It is your responsibility to Inspect your shipment immediately upon deliver. Be sure all packages received are accounted for and are in good condition prior to signing or accepting them. If there is any sign of damage, you must note it on the receipt and open the package in the presence of the delivery person, and, have the delivery person countersign the acknowledgement of damage.
Any Loss or Damage discovered at or after delivery must be REPORTED IMMEDIATELY to Altas Signs and Plaques. No claim will be honored if more than 5 business days have elapsed from day of delivery.
YOU MUST RETAIN ALL CARTONS AND PACKING MATERIALS IN THE EXACT CONDITION AND LOCATION AS DELIVERED FOR INSPECTION BY THE CARRIER IN ORDER TO MAINTAIN ANY RIGHT TO A DAMAGE CLAIM. ANY FAILURE TO DO SO WILL RESULT IN THE INSTANT DENIAL OF ANY DAMAGE CLAIM AND ANY ALL ALL RIGHTS TO REIMBURSEMENT OR REPLACEMENT.
IN OTHER WORDS AND TO BE REPETITIVE – Keep boxes and packing materials intact. If you toss those things before the shipper has time to see them they will do NOTHING, and Atlas will do NOTHING. If the box is damaged and the driver is present, have them make a note and have them wait until you open the package to inspect for damage. Take pictures!
Returns
Returns – We want you to be more than satisfied with each purchase, and we will make every effort to resolve any issues. All our signs and plaques are personalized items and are non-returnable and non-refundable unless we have committed a documented error. You must examine your order immediately upon receipt and notify us of any errors because we will imply that all is well with your order when you have received it. We can not be responsible for damaged caused by others or by carelessness.
If Atlas has not made an error, and we at a moment of weakness and for some unknown reason decide to accept your return, the shipping expense back to the address provided and is yours to pay.
IF we decide to accept your return. Package it at least as good as we packed it for you. We use strong boxes, lots of bubble wrap, and often stiffeners in the boxes. If you received it in a box and return it in an envelope, don't expect anything from us. For complete instructions (with pictures) click here.