Happy New Year!
Welcome.
Look Around. Enjoy. Ask Questions.
---
Beautifully handcrafted signs for a fraction of the cost
Our signs are not castings from a foundry but they are NOT cheaply made. The process that we use is one of the reasons we can customize your sign for a reasonable cost. We use a lightweight product that was developed for the aerospace industry. This tried-and-true product creates a fantastic plaque that won't warp or rot and is great for outdoor use. In addition, we use REAL metal coatings on your sign, not paint. This creates a true cast metal look and feel without the weight or wait of a casted sign or costing you a fortune. We know you will be thrilled with our work – our loyal customers return over and over again!
---
Thanks for the compliments!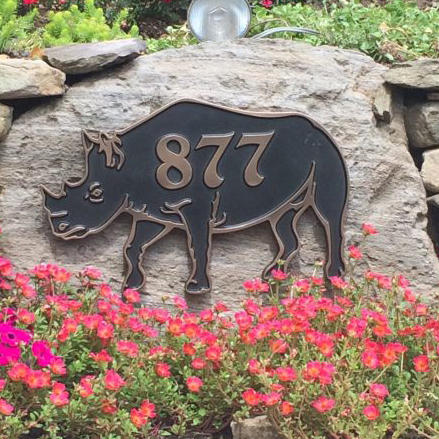 Thank you for the spectacular design and creation of my Rhino address sign. It stops traffic and was meant to be on this wall. It's perfect!
I cannot thank you enough for this outstanding work of art.
You get my unrestricted recommendations!

Thank you again,
-Margaret

---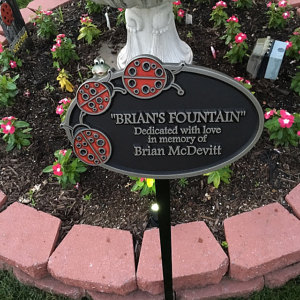 Absolutely Amazing!! Exactly what we wanted.
My Aunt & Uncle were so appreciative of the gift for my cousins memory fountain.
Thank you!
– Jennifer J.


---
ATLAS SIGNS & PLAQUES – PART ART – PART SCIENCE – PART AWESOME!
Address plaques and  custom signs made just for you. Specializing in address plaques, historic markers, memorial signs, no soliciting signs, military and service plaques, wedding plaques, welcome signs and more!
Custom signs for every occasion.  Privacy plaques, house signs, address signs, wedding gifts, church signs, art deco plaques, craftsman style signs, nautical plaques. Our custom signs make great gifts!
---