My sign got dropped or damaged. Can I repair it?
Karie Farr
2020-09-04T10:32:04-06:00
Starting with a summary:  One, signs from Atlas can break when they are dropped or blown off the building by wind. Two, repairs will never be "as good as new". Three, repairs don't always work.
If you chip the finish or ding a corner, try a little black marker, carefully applied paint, or whatever. Be creative, you will be surprised at what can disappear once the light colored HDU substrate is not glaring at you.
If your sign is broken and you want to attempt a repair, here is what to use and how to do it:  The only glue that will work is polyurethane adhesive, with the most popular and well-know polyurethane adhesive being the brand name Gorilla Glue. It is important to decide first how you will hold the pieces together so practice with clamps, straps, tape, or as a last resort hand pressure.
Polyurethane adhesive has some properties that effect its use. It is activated by moisture, and it expands into a bubbly froth as it sets. (expansion can be up to 4 times original volume). So, lightly mist both surfaces with water and spread a little glue keeping in mind the serious expansion. Secure the pieces and try not to disturb. You may use water to clean up the plaque face but never any kind of solvent or thinner.
There is a fine line between too much glue and not enough. Not enough will not hold the pieces together and too much will make it a mess. You could use some blue painters tape or some low adhesive tape to protect the face if the glue was to expand. This "might" keep the surface of the sign from getting full of glue.
Last point and most important. The above is purely informational and a suggestion only. See the summary above.
How big or small can a cast sign be? And what is the depth?
janey freid
2023-05-09T12:15:20-06:00
Cast plaques can be up to 96 inches in width.
Aluminum cast plaques can be as big as 60 inches by 96 inches or 5,760 sq. inches.
Cast bronze plaques can be up to 36 inches by 96 inches or 3,456 sq. inches.
Cast plaques can be as small as 2 inches in width.
Depths
The depth of a plaque is determined by plaque size. Additional depths greater than 1 inch are available.
Depth and Plaque Size
5/16 inch deep and Up to 323 sq. inches
1/2 inch deep and Between 324 sq. inches – 575 sq. inches
3/4 inch deep and Between 576 sq. inches – 1295 sq. inches
1 inch deep and Between 1296 sq. inches – 2304 sq. inches and larger
Can I cancel my order once it is placed?
Karie Farr
2020-09-28T12:39:00-06:00
Our cancellation policy remains the same:
An order may not be canceled once it is "In Production." If the order is still in the preflight or proofing stage, it may be canceled subject to the following fees, when applicable:
Orders placed, paid for and then canceled before 4 p.m. MT on the same day may be refunded in full or booked as store credit to be applied to future orders;
Orders below $100 will not be subject to cancellation fees;
Orders from $100 to $500 will be subject to a $15.00 cancellation fee;
Orders $500 and above will be subject to a cancellation fee of 3.5% of the full order amount;
Any design or proof fee will NOT be refunded once the design/proof process has started.
What if I want my sign or plaque sooner?
Karie Farr
2020-09-04T10:29:48-06:00
Sorry, no rush orders. We promise to ship our signs in three weeks and most of the time it is sooner than that. Everyone's order is important and in fairness to those that ordered before you we assure everyone their place in line on a first come first serve basis.
I can make a color proof (for free) that you can print and use until your sign/plaque arrives. We do offer expedited shipping for an extra charge if you like. Please provide your complete shipping address and we will provide a price quote if you'd like to request express shipping.
Can I put my cast sign in the ground?
Karie Farr
2020-09-04T09:46:15-06:00
Yes, cast plaques are long-lasting and designed to last a lifetime. Note that if the area would be subject to much abuse such as mowing and weed wacking it will have degradation.
Can I put my sign on the back of a bench?
Karie Farr
2020-09-04T09:38:38-06:00
Both our metal coated HDU and cast metal signs are not ideal for a bench due to the thickness. Our signs are 1" thick and therefore would be uncomfortable to lean against.  We recommend you request a quote for our custom etched metal signs which are only 1/8″ thick and perfect for this application.
Do you have a store where I can see your products?
Karie Farr
2020-09-04T09:47:36-06:00
Sorry, our products are only available online.
What does "Handcrafted" mean?
Karie Farr
2020-09-04T09:30:27-06:00
Every sign or plaque created by Atlas Signs and Plaques is handcrafted, meaning made-by-hand. That means that your plaque is totally unique from every other, and has been "touched" by many different hands. Different hands mean that there are variations in the look and finish of your sign. Your plaque undergoes nine to eleven different steps before it is shipped to you. Each step imparts a level of uniqueness making every plaque a true one-of-a-kind customized purchase. Here is an interesting blog article about finish variations.
These normal variations, little bumps, waves, and other variations in the finish, that might be called defects by some, are part of the charm that only a handcrafted item can deliver.
At Atlas, we celebrate these variances. They make our creation, and your plaque, incomparable.
I want a sign another size than what I see on your site? Can I get different sizes?
Karie Farr
2020-09-04T09:50:28-06:00
Yes. Fill our our custom sign quote request. We will send you a price and link to how you can order your sign. Your next question is, How Much? We will let you know. Just remember that a "little bit bigger" is a lot more material. If the sign is an odd shape or has a lot of artwork then we might charge extra for a special size if we are unable to just upscale the design. Often it takes a lot of time (and we all know that time costs money) to make dramatic changes. But quote requests are free so send us your request.
How much do cast metal plaques weigh?
Karie Farr
2020-09-04T10:13:48-06:00
The weight of a bronze plaque can be estimated by calculating the plaque's volume in inches (height x width x depth) x .31. For smaller plaques (under 36″ x 30″) allow .25″ as the approximate depth. Use .375″ for plaques over 36″ x 30″.
Example: For a 36″ x 24″ plaque calculate 36″ x 24″ x .25″ = 216 cu. inches x .31 = 66.96. The plaque's estimated weight would be 67 lbs.
An aluminum plaque is approximately 1/3rd the weight of a comparable sized bronze plaque.
You advertise that your product is Made in the USA. Do you use any foreign products?
Karie Farr
2020-09-04T09:30:27-06:00
Not intentionally. We shop hard in an attempt to assure that even the smallest items are Made in the USA. We also strive to purchase and use only tools and machines in our shop that are domestically produced. With that said, it is impossible to assure that every component measures up to our standards in this international economy. There are, no doubt, elements in our tools and equipment that have a foreign heritage. But we really try, and hope that you will also support your neighbors and community.
How large should my house numbers be?
Karie Farr
2020-09-04T09:30:27-06:00
For readability, plan an absolute minimum of 1 1/2 inches per 50 feet of distance. You should also be certain of any minimum size or contrast requirement imposed by your local authorities. Many of our address plaques go to homes that also have an additional, official, fire or police number posted. So size would not an issue in these cases. In general, address numbers of 3 inches is a good scale. On a larger building, larger plaques will have a better scale and look.
Can I get a photo or an etching on my cast plaque?
Karie Farr
2020-09-04T10:19:16-06:00
Can I change (x, y, or z) about the finish on my plaque?
Karie Farr
2020-09-04T09:30:27-06:00
We strive to be as accommodating as possible, and we love to experiment. However, our methods have been refined over time and produce what we feel is the best possible outcome. If you would like something different that we are able to do, please be aware that you may not like it as much and it may cause problems (such as less contrast leading to less readability). While we won't say "I told you so," we also probably won't be able to fix it.
Can I get a cast painted sign from you?
Karie Farr
2020-09-10T15:31:45-06:00
Yes. We can include some color for a modest charge.  Cast signs are colored with a UV Print process.
Here is an example of a painted sign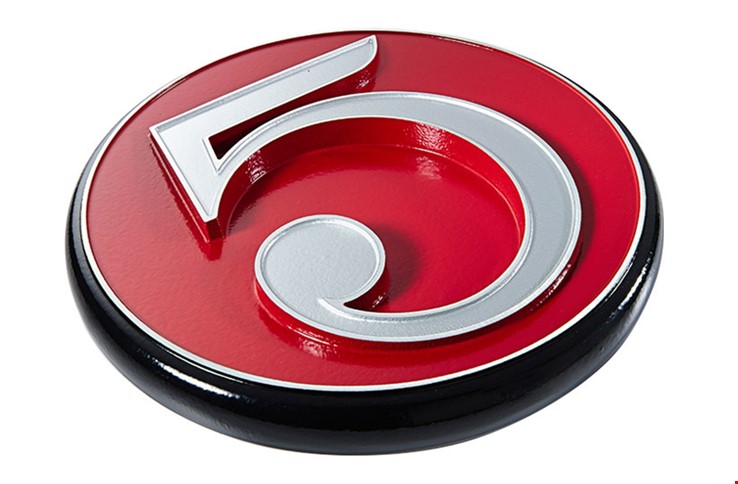 UV printed products carry our standard lifetime warranty with interior use and a 10 year limited warranty with exterior use. This is a direct inkjet printing process that takes colors directly from your files. The CMYK colors will not match painted colors. The quality of the artwork supplied will be reflected in the final print's quality.
What is your shipping time?
Karie Farr
2020-09-04T09:30:27-06:00
We are usually able to ship in 3 weeks ("about" means "about") after final design, artwork approval and payment. Our normal shipping method is FedEx, UPS or USPS, insured and trackable. Our signs and plaques ships from zip code 81416, Delta, Colorado. Shipping times are 1-5 days. Shipments to Canada can take up to 2 weeks. Shipments to other countries will likely take longer.
We do not make firm promises of plaque completion time. We do not make firm promises of delivery date. Things happen. Our suppliers don't ship, things break, power goes out, trucking company doesn't show up, blizzards occur, tornadoes happen, people get sick, cars break down, life happens, etc, etc. We will do our best at our facility, but once it leaves us, we have no control of the shippers and customs whatsoever.
Where do I find a bracket for my hanging sign?
Karie Farr
2020-09-04T09:30:27-06:00
We make a fine selection of stakes, posts, hooks, finials, and brackets available on our website. When your order includes these, we will complete your sign so that final mounting will be easy. We have found a source for our mounting hardware that is Made in America. Atlas only uses products and materials that are Made in the USA, so we are reluctant to purchase from the chain home stores and, of course encourage you to use domestically manufactured mounting hardware.
If you don't purchase from us, we prefer that you support your community by contacting your local wrought iron craftsperson to have one made. Just let us know the dimensions and we will install "Eye" bolts or other hardware to match your mounting situation.
Where do you get your artwork and graphics?
Karie Farr
2020-09-04T09:30:27-06:00
Our artists often create original art graphics just for you. To speed the process and keep our prices low, we use fonts and graphics from a variety of sources. We have our own extensive library and subscribe to a number of different services. Our fonts and graphics are original, licensed to us for use, or are in the public domain. We won't intentionally cheat someone by stealing their talent and effort.
Are there limits on letter or graphic sizes?
Karie Farr
2020-09-04T09:30:27-06:00
Letters should be a minimum of .25(ish)" and lines should be minimum of .125″ width. Lines should should be slightly rounded or squared off. Due to our coating process, some distortion of extreme detail may occur in the finished product.
For those desiring to submit their own artwork, please read the following:
Karie Farr
2020-09-04T09:30:27-06:00
We love making signs and plaques uniquely yours, and we hate charging an arm and a leg to do it.
We often receive artwork or ideas from clients who desire a personalized custom sign, but send artwork and files that we just cannot use. This is both disappointing and time consuming for all parties.
There are two solutions for this. The option that no one likes is for our designers to totally recreate the submitted artwork in a file type that we can use. The downside to this is that we must charge $75 per hour, and impose a $75 minimum fee for this service. Firm quote will be given when you send artwork.
The best option is for us to receive your ideas in a file format that we can use or convert. The following is a list of acceptable formats.
They are: Adobe Illustrator (ai), EPS, or vectorized PDF. (Vectorized PDF means that the file was created in Illustrator and then saved as a PDF.) Some CAD/CAM formats (DWG or DXF) are usually ok.
However, even these acceptable file formats are not without some conditions.
All text must be converted to outlines. Artwork should be vectorized. Rasterized images (common to photo editing software) are not acceptable.  Caution should be used to assure that lines are joined (welded), and that there are not multiple overlaid lines. Embedded or linked files are equally unacceptable.
List of definitely unacceptable formats:
GIF, JPG, TIFF, BMP, PCX, Microsoft Powerpoint (PPT),  Microsoft Word (DOC), Adobe Photoshop (PSD), Quark (QXD) Pagemaker, or any other text or word processor program.
A further condition is we cannot "blow up" an image (make it larger) without sacrificing clarity. We can always remove pixels to make the image smaller, but cannot add pixels and maintain resolution. Neither can you, so don't do that and send us the file, it won't work.
Can I supply my own artwork and graphics?
Karie Farr
2020-09-04T09:30:27-06:00
Yes. We can convert most any file type into a format that is usable to our equipment. Since each line is seen by our computer programs, the design and letters must be vectorized and made smooth. Additionally, we often need to adjust the letter kerning for a better look and to have a little separation between each, non-script, letter. Be aware that we often receive well-intentioned graphics that contain elements such as line over-laps, loops, or other issues that would not be a problem for printing, but are problematic for our equipment. We will do some graphic clean-up work for free, but will let you know if additional charges will be necessary to make the design work for a sign or plaque.
Let us know what you are sending and we can work with you to get the look you desire. We can not use graphics, photographs, or elements that belong to someone else. So, be certain of your source and realize that we could ask you to provide proof of ownership or a release in some situations.
How many times can I have you make design changes? When do you charge for design work?
Karie Farr
2020-09-04T10:35:22-06:00
If you desire a plaque, sign, or address numbers, simply start by selecting from one of our online choices. It is best to have us customize an existing example in our online catalog to speed the design process so you can receive your plaque sooner. If one of our existing plaques is close and only needs a couple of minor changes, let us know and we will get you a proof with a couple of variations from which to choose. You choose and your creation will go to our shop for production.
If you want something that we have not yet created, we are thrilled to work with you so you can have it your way. Our designers will take your idea and give you a number of different ideas from which to choose. Our prices are kept reasonable because we control our expenses and overhead. We do not have a huge profit margin to support "free" (read as "included in everyone else's price") services. Sometimes it is just difficult to make the final decision. If you find yourself in that position, we will be happy to keep working with you. It will be necessary to make a payment, and complete further design work at our $96.00 per hour rate (less than your auto mechanic, and a fraction of your plumber's hourly rate). So to be clear, you get 2 designs with variations for free, then we must charge for further work.
I want a plaque in a vertical rather than horizontal format. Will it cost the same?
Karie Farr
2020-09-04T09:30:43-06:00
No, It will likely be larger and cost more. Vertical signs get larger because letters and numbers, in virtually every font, are taller than they are wide. When our designers actually design the custom vertical plaque, they almost always end up larger. It is just a fact of life!
We really try to quantify all of the variables in our price structure to give our clients the very best value for their purchase price. Some changes or modifications to our existing catalog of plaques just add more expense to our cost structure than might not be apparent to our clients. We do make every attempt to maintain sanity to our prices, and will not take advantage of your request to gouge your wallet.
I just want it a little bigger, why does it cost so much more?
Karie Farr
2020-09-04T09:30:43-06:00
It is just the way math works. Examples to follow. We price our signs and plaques using some math and some magic. Two signs of equal size are not normally the same price. Our pricing is dependent upon not only size, but on the font used (we often spend a lot of money for the rights to use a particular font), complexity of design, amount of hand finishing required, and other secret stuff that we won't divulge.
Back to the math. Whether a rectangle or a circle, increasing the size by, let's say, 10%, actually increases the area, and therefore the amount of materials we use by 21%. A plaque that is originally 10 inches square would be 100 square inches. Increasing that size by 10% makes a sign that is 11 x 11 inches. Do the math and the new size is 121 square inches. Or 21% greater in area. Therefore, you should expect the new price to be about 21% greater for a plaque that has only been super-sized by a lousy 10%. Don't hold us to the 21% rule, as there are other mysterious factors involved here.
Can I get a discount because I (We) are a ……(Fill in the Blank)
Karie Farr
2020-09-04T09:30:43-06:00
No. Discounts for some mean that others are paying more.
We are often asked to discount our already low prices because the purchaser is a non-profit, church, or just nice people that would like to pay less. The real question that we all want to know when we ask for a discount is:  Is someone going to pay less than I am? At Atlas the answer is "no". Everybody pays the same – just like a can of corn or a gallon of gas. It is the most fair method we can think of.
How close will my sign look to the ones pictured in your online catalog?
Karie Farr
2020-09-04T09:30:43-06:00
Pretty close, but not exactly. There are several reasons for this. One, the materials that we receive from our suppliers vary from lot to lot. Two, our process is as much art as science. Each artisan that works on your plaque has a slightly different "hand" which affects the final outcome. Three, temperature, humidity, and we think, the position of the planets influences the finished product. Four, we change our materials and techniques over time. These changes result in an improved product, but may slightly change the look of the sign or plaque. Five, there are variables in the rendition of the image you see on your computer screen. This starts at our end with photo lighting, the camera used, and how we see the plaque photograph on our own computer screen. On your end, every computer renders color differently. This is normal for uncalibrated home and business computers.
Bottom line one is that you may or may not see differences. Bottom line two is that we can't do anything about all these variables.
A Note For Multiple Orders. As should be clear from the above paragraphs, it is the nature of hand finishing that no two patinas are exactly alike. However, with multiple orders, care is taken to match tone and texture as closely as possible. Multiple sign orders will match very close provided they are ordered and created all at the same time. Those ordered at different times may have a little variation, however, unless they are placed side by side, you are unlikely to notice.
What is the warranty on UV printing?
Karie Farr
2020-09-10T15:33:12-06:00
UV printed products carry our standard lifetime warranty with interior use and a 10 year limited warranty with exterior use. This is a direct inkjet printing process that takes colors directly from your files. The CMYK colors will not match painted colors. The quality of the artwork supplied will be reflected in the final print's quality.