Precision/Cast Sign Options
Atlas Signs and Plaques offers nearly unlimited customization for our precision/cast signs. We have many options that you can easily choose by purchasing our standard products in our webstore.
Below are almost all of the options available including custom signs that can be requested via our custom quote request.
Precision/Cast Sign Options and Descriptions
Click on the letter below to view each option.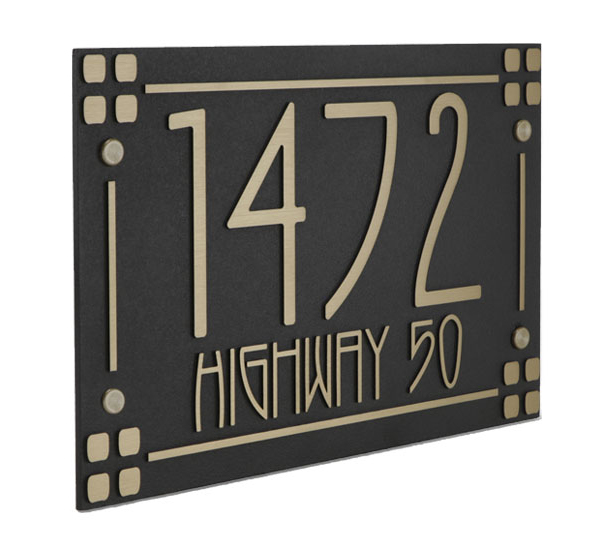 Precision/Cast Sign Options Photogallery
Highest quality plaques and plates. Click each image to view larger.
Plaque Material
Precision/Cast sign options. Created from a solid sheet of metal and routed or casted. This option won't warp, rot and is unaffected by weather, so outside is just fine. Use for interior or exterior.
Precision Cast Aluminum

Precision Cast Bronze

Plaque Background
Most Common Background Colors
Dark Oxide 1315 standard unless otherwise specified.


Other Standard Painted Background Colors
Custom paint matching/colors available too.  Simply tell us the paint number and brand you would like us to match (e.g., PMS 186 or Sherwin-Williams Boathouse Blue), and we will obtain a mixing formula. We can not use RGB or CMYK Or HEX colors. Those are for websites and printing not paint.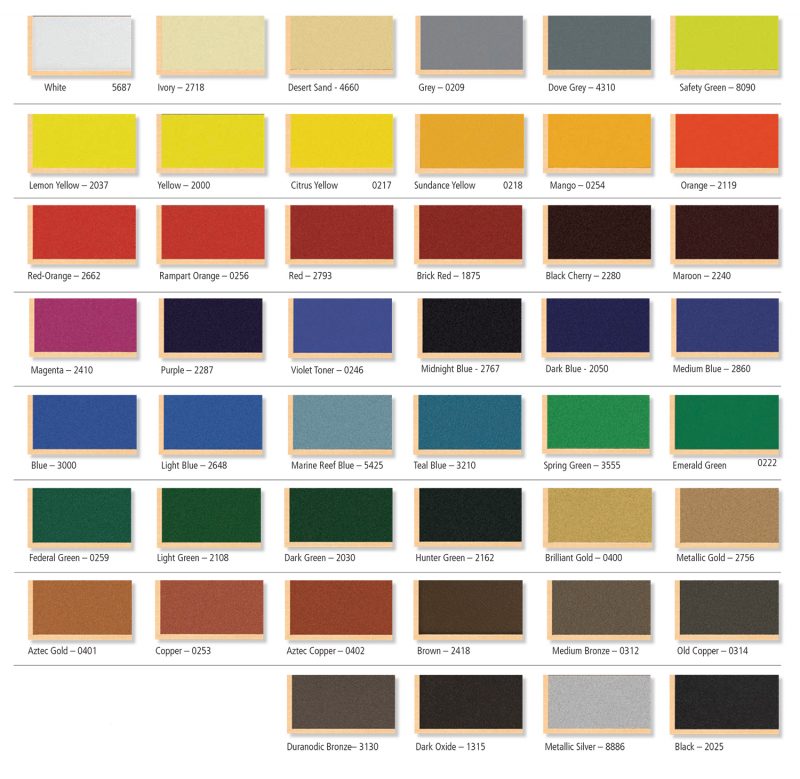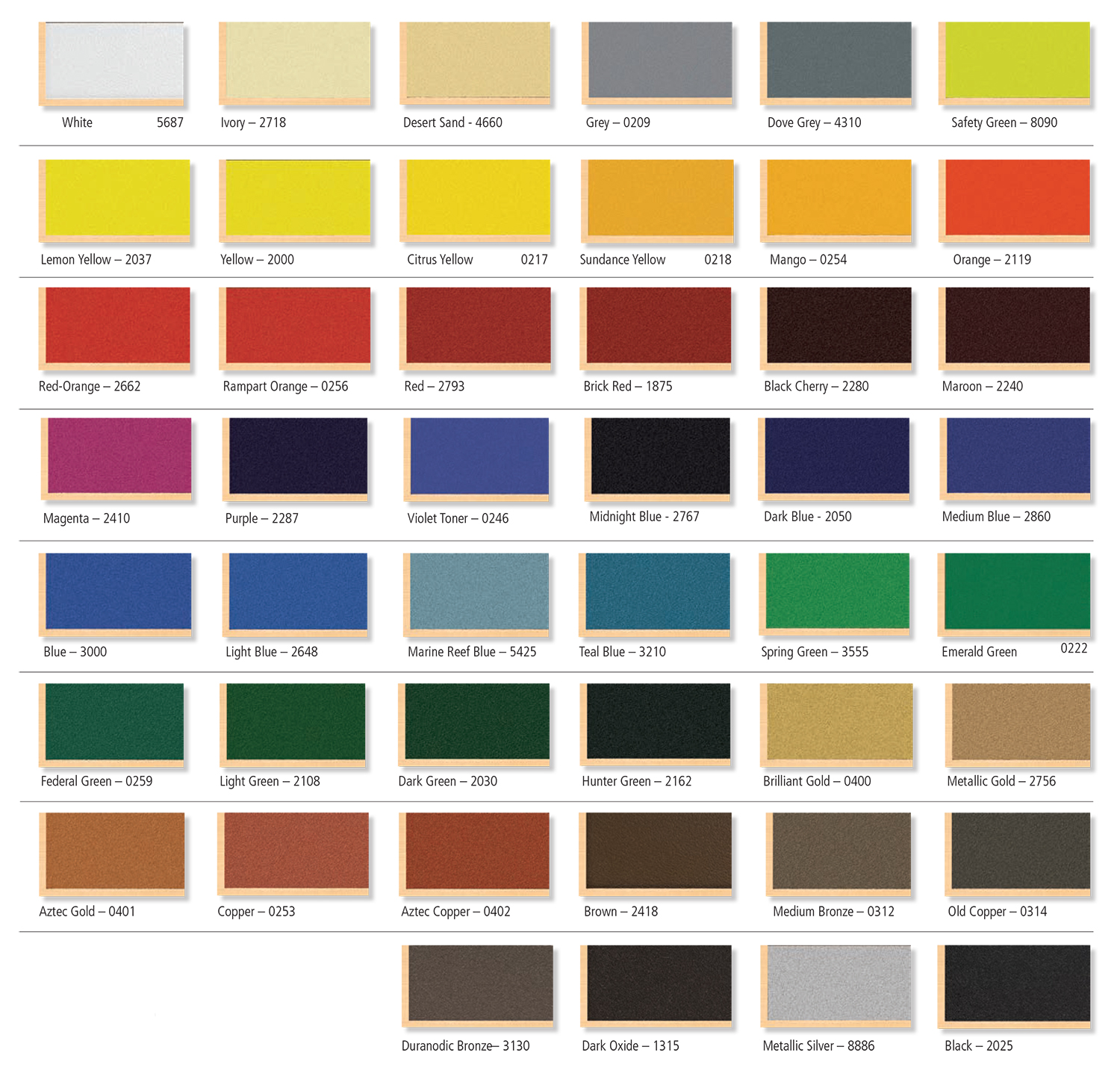 Plaque Finish Style
Standard Finish Options
Horizontal brushed grain is standard on all plaques. Plaque edge color is same as background. Brushed finish with plaque edge color same as background is standard on all signs unless otherwise specified.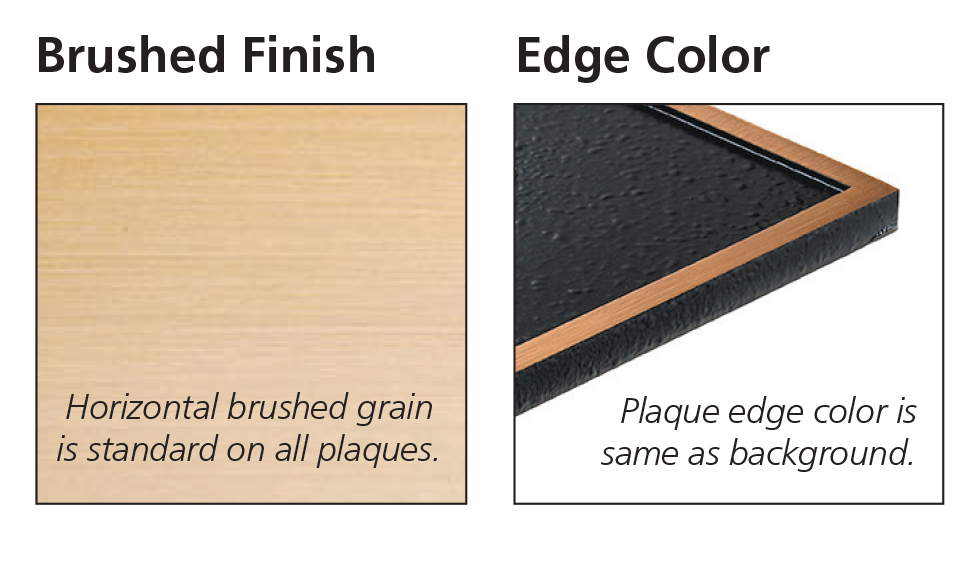 Specialty Finish Options
Bronze Finishes (+15%)
Oxidized finishes vary from order to order. Size Limitations may apply.


Verde, Turquoise & Green Patina (+30%)
All patinas, by their nature, will vary from plaque to plaque and order to order, and will change over time. Patina finishes may "bleed" onto the installation surface when installed outside.


Raised Painted (up to 2 additional colors – $80 per color)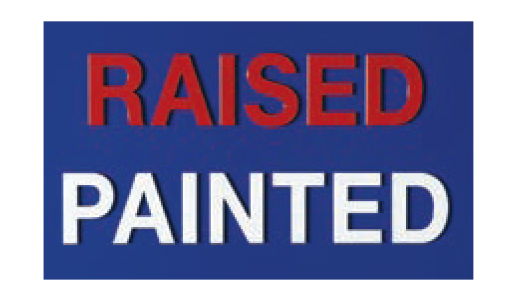 Clear Coat Options 
Satin is standard on brushed finishes. Gloss is standard on polished finishes. Matte is standard on PhotoRelief™. Clear coat for harsh environments is also available upon request at no charge.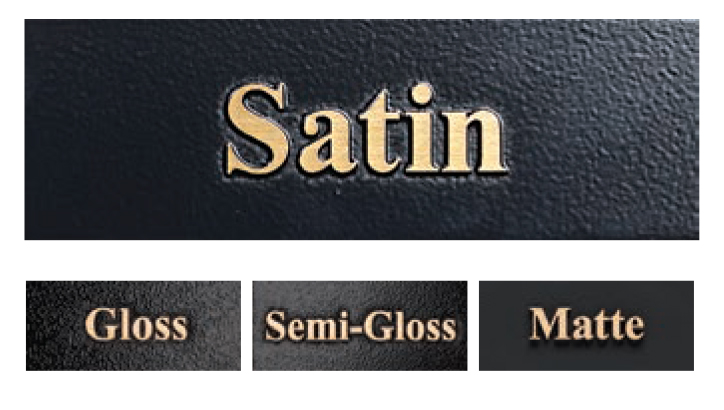 Background Textures
Sand is the standard option. All options are available at no upcharge. Size limitations may apply.


Rosettes
Optional Rosettes are decorative covers for the screw heads, typically in each corner of bronze and aluminum plaques (included in price). Rosettes are available in 1/2", 3/4", 1" and 1-1/2" diameters. Rosettes with highlights are oxidized, aluminum rosettes are bead blasted. Screw heads are painted to match plaque background. R-1 is standard unless otherwise specified.


Mounts
Surface Mounts – Standard
Plaques installed on stucco require spacers on studs. Please advise us if you are mounting on stucco so we make sure to include spacers with your order.


Stake Mounts – Optional
Garden Stake Mount (Type E)
+$90 – $145 each
Machine screws through 5/16" thick black anodized stakes into back of plaque. Maximum plaque size is 12" x 8" for one stake or 20" x 8" for two stakes. Minimum plaque height is 4". Plaques installed on stucco require spacers on studs.
Post Mount (Type F)
+$147 – $295 each
Black painted aluminum brackets attach to back of plaque with machine screws. Aluminum square post bolts into bracket at a 45° or 90° angle. Plaques over 24" wide require two posts. 1" Post is on a 4" x 6" bracket. 1-1/2" Post is on a 5" x 7" bracket. 2" Post is on a 6" x 8" bracket.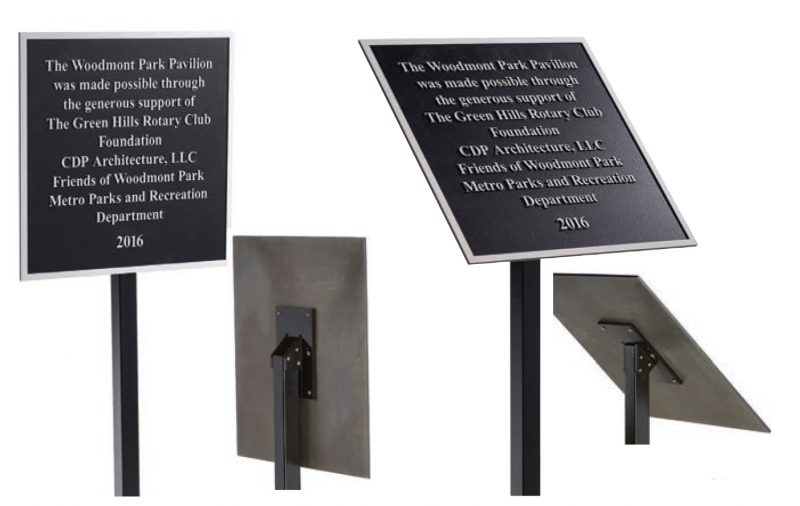 Post Cap Mount (Type R)
+$347 – $1,376 each
Cast as part of an aluminum or bronze plaque, the post cap mount is designed to fit on 1-1/2", 2" or 3" ID schedule 40 posts. Available on almost any custom plaque, single or double-sided, up to 30" x 30" – 1/2" deep. Post are provided either galvanized or painted the plaque background color. Radius blade is standard (shown), angle and ogee blades also available.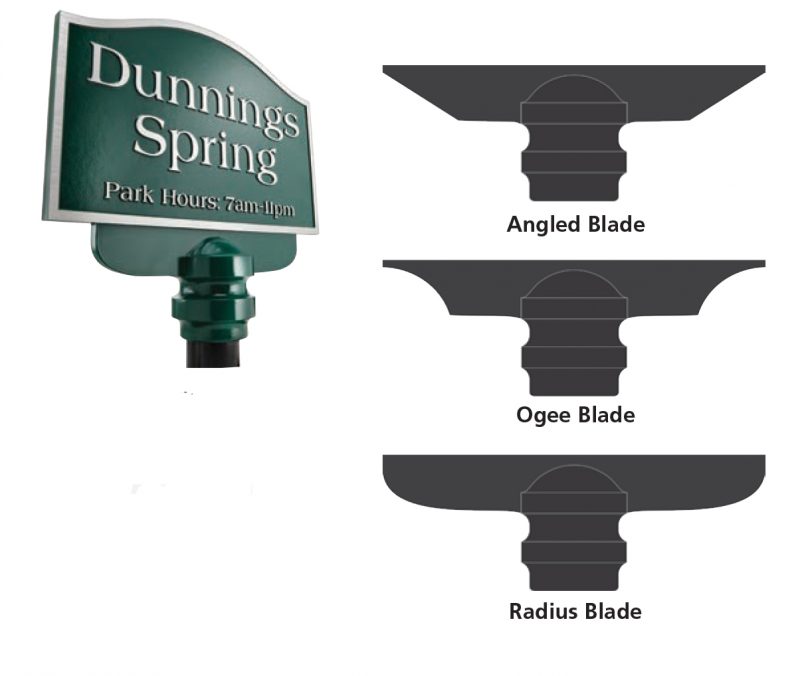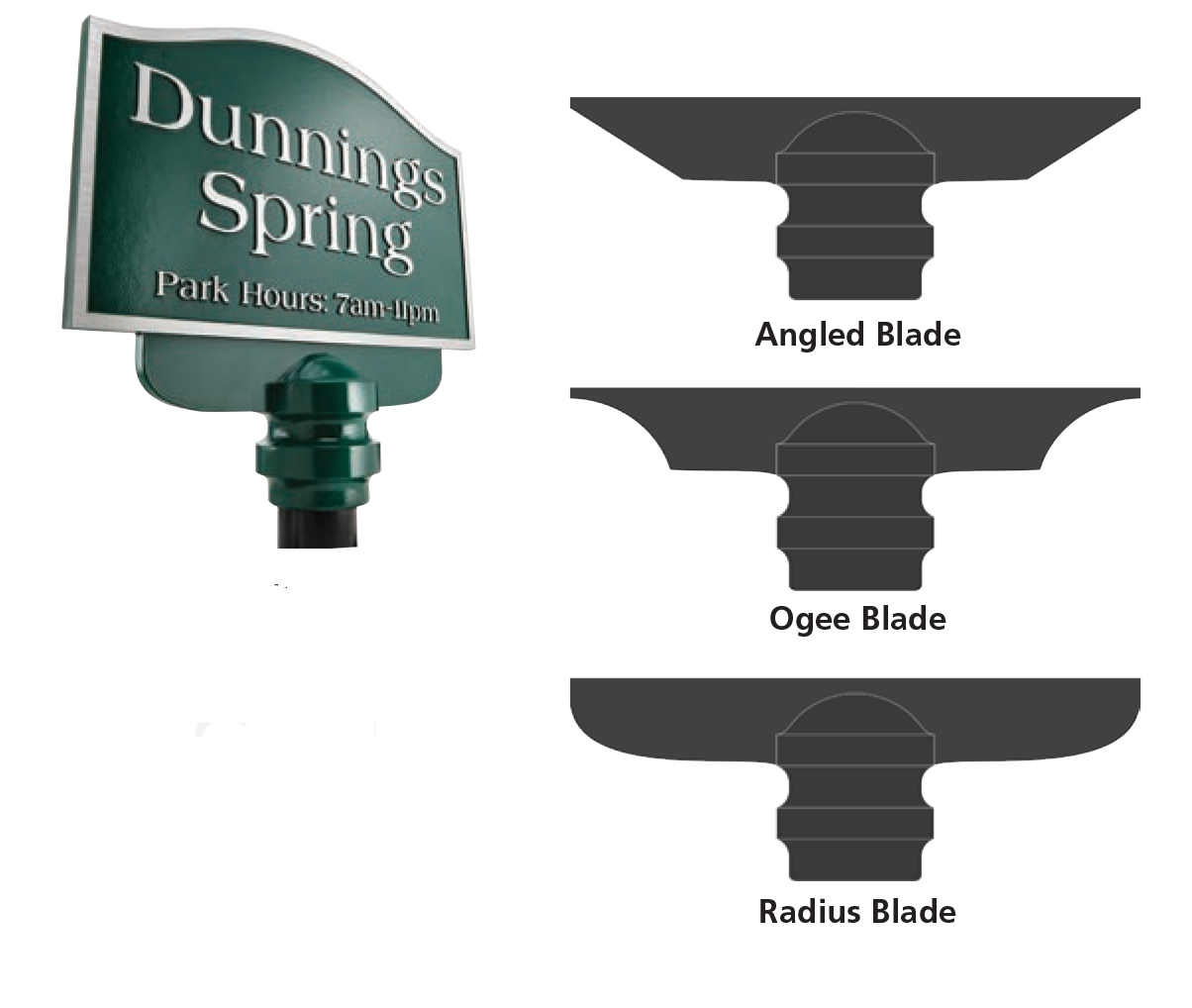 Square Post Side Mount
+$995 – $1,619
The square post side mount is meant to provide a free standing plaque mount for plaques over 900 sq. in. Copy can be applied to front and back. For plaques with front copy only, the backs will be finished. Using two steel posts that are 4"x 4", plaques up to 36 sq ft can be free standing mounted. The square post side mount is a complete mounting system that ships with the plaque and includes the posts and hardware necessary for install. Assembly only requires common hand tools and can be done at the job site.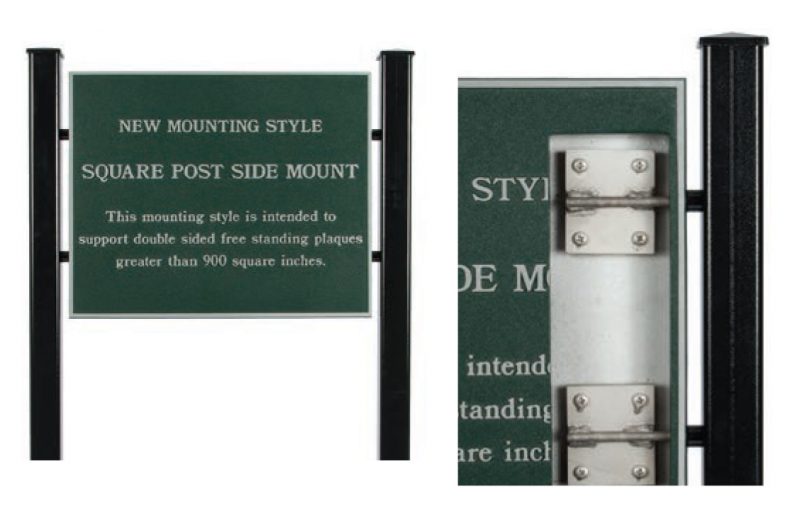 Square Post Back Mount
+$551 – $1,018
The square post back mount is meant to provide a free standing plaque mount for single sided applications. Using two or three steel posts that are 3"x 3" or 4"x 4", plaques up to 36 sq ft can be free standing mounted. The square post back mount is a complete in-ground mounting system that ships with the plaque and includes the posts and hardware necessary for install. Optional base plates for surface mounting are available. Assembly only requires common hand tools and can be done at the job site.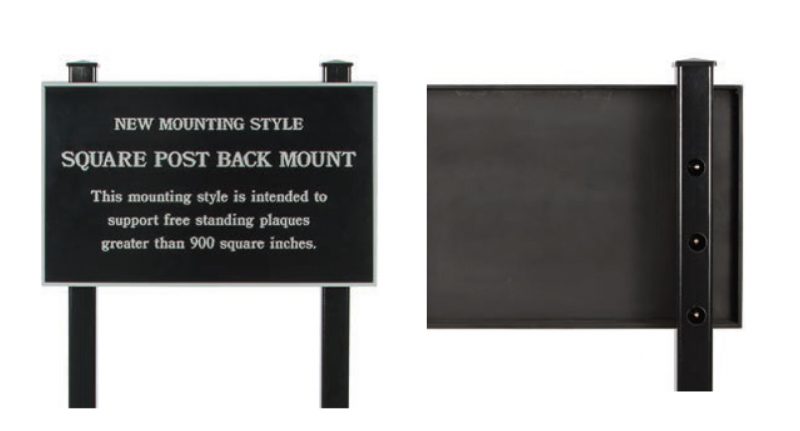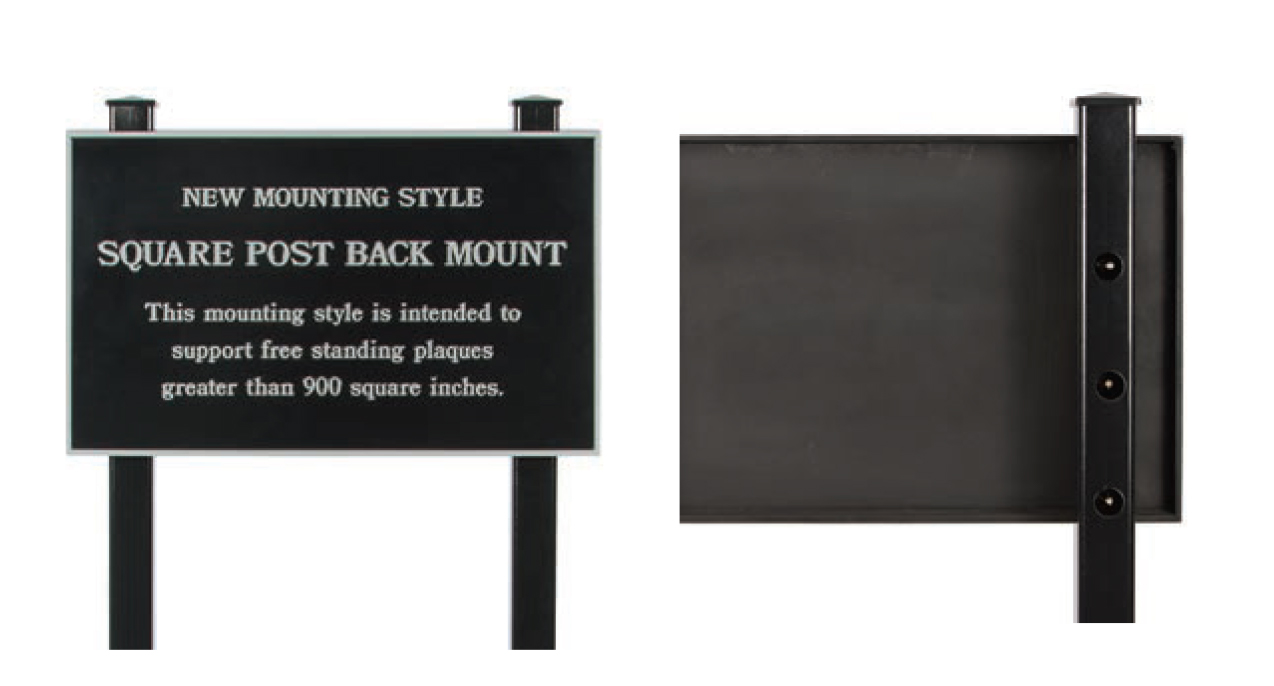 Large Return Plaques

+35%
Precision/Cast options. For applications where extra depth is desired, we can manufacture plaques with a larger return. Our large return precision tooled plaques feature a 90º edge (60º also available) and depth of 3/4" to 2", instead of the standard 1/4" to 5/16" depth.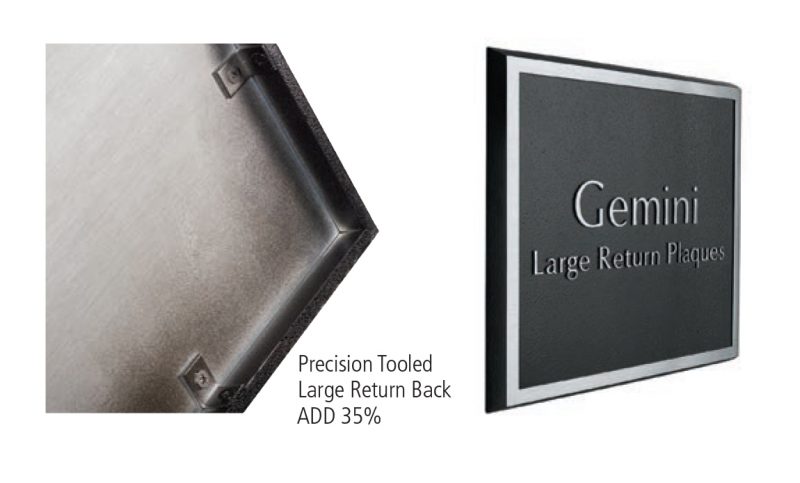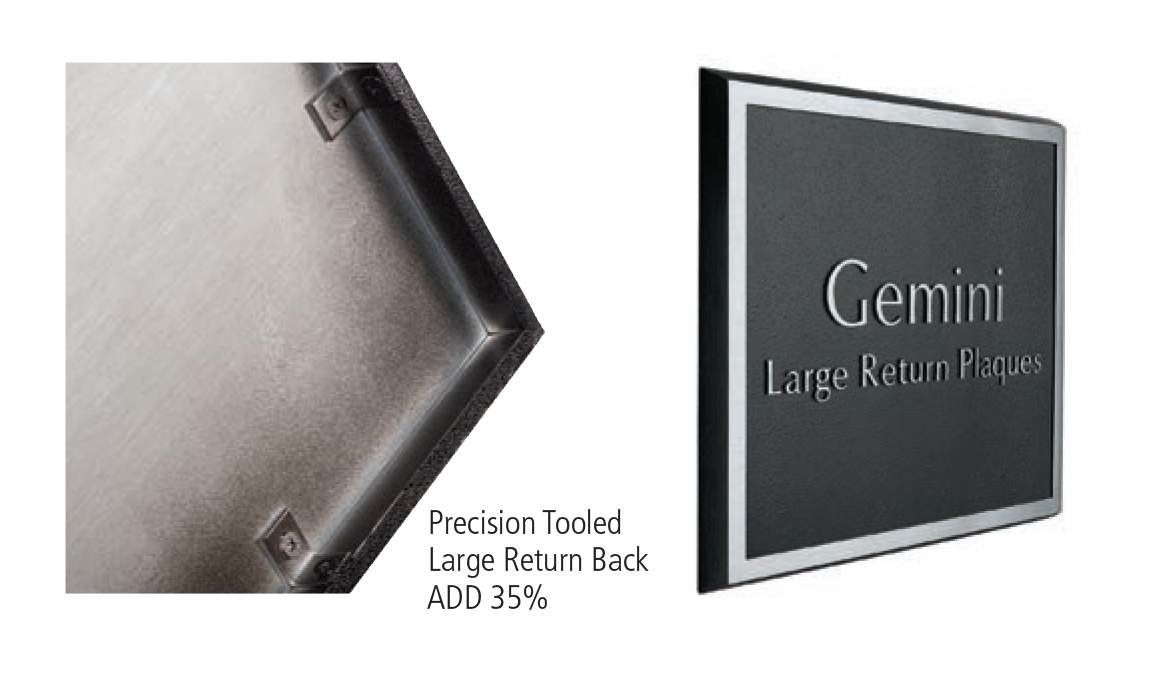 Integrated Logos & Emblems
Additional charges starting at +$100
We have the capability to add a custom emblem or logo to your plaque in one of two ways. The emblem or logo can either be cast as part of the plaque, or crafted as a separate etched piece and attached to the plaque. Image detail is somewhat limited by the manufacturing process when cast, but the cost is included in the price of the plaque. There are nearly no detail restrictions with an etched emblem; however, additional charges will apply.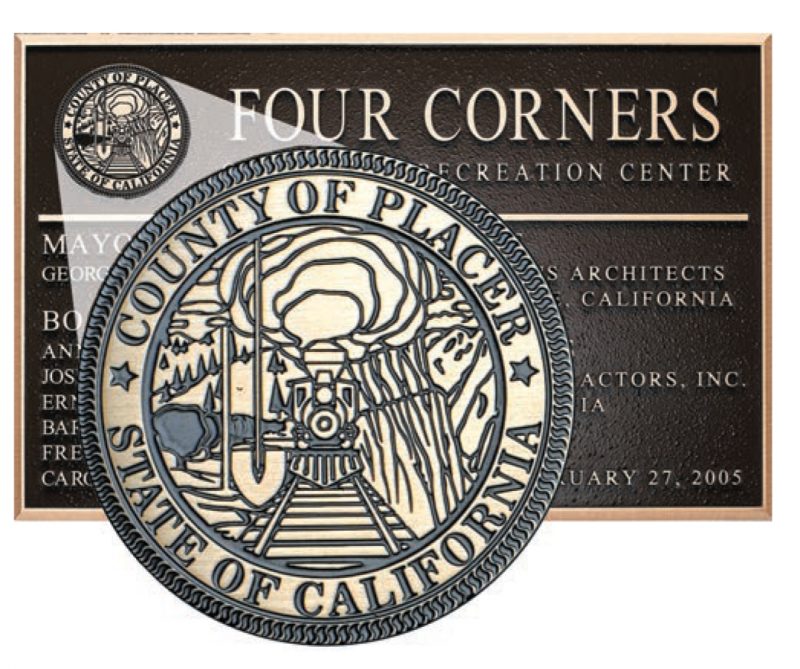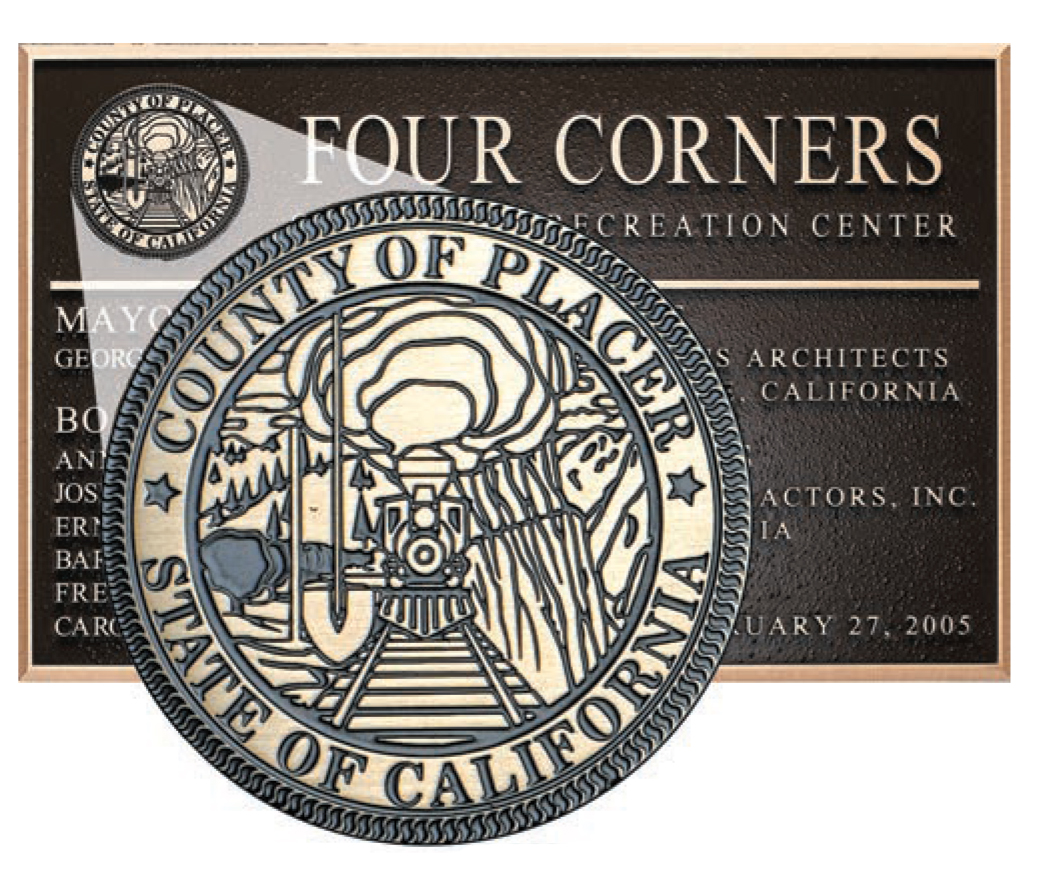 Double-Sided Plaques
+Regular plaque price x 2.25
In some instances, such as a plaque that will be hung from the ceiling rather than mounted flat to a wall, both sides of a plaque will be visible. In such cases, a double-sided plaque may provide a more elegant look. Double-sided plaques feature a standard face, but have a finished back side that can be a mirror image of the front or a different design.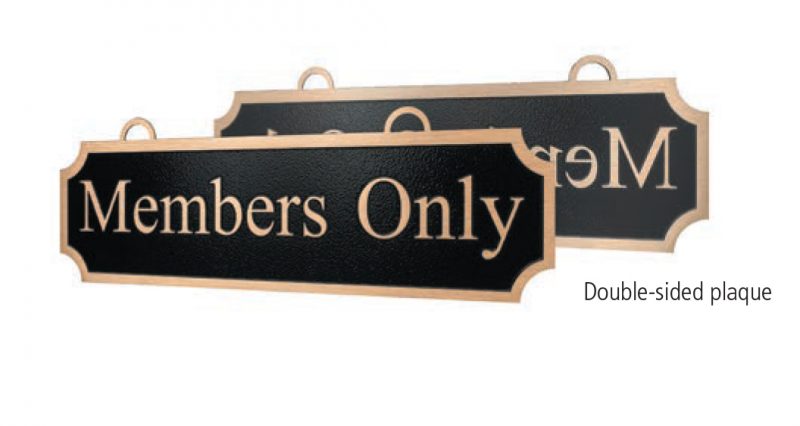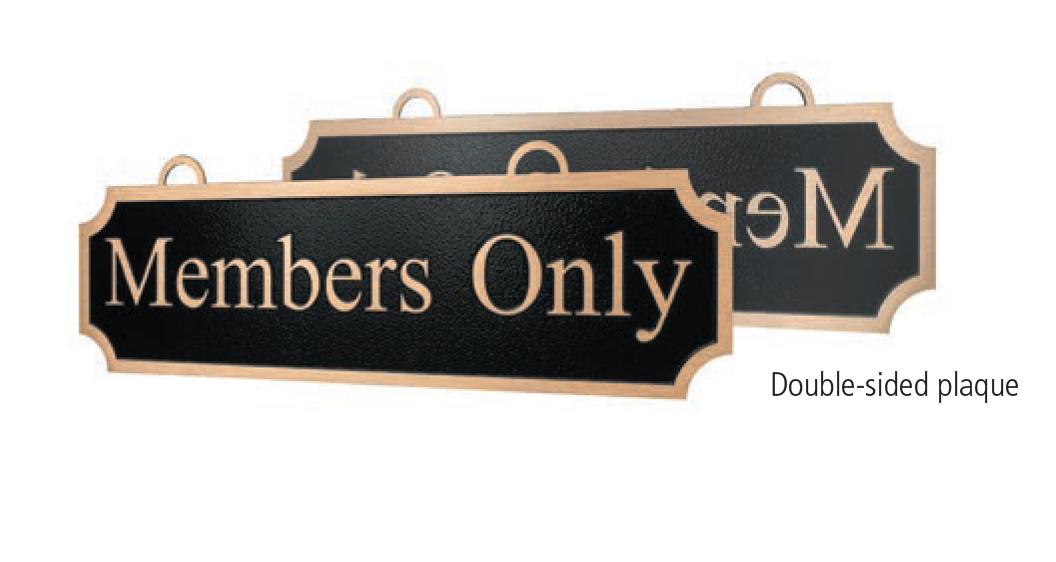 Projected Wayfinding Mount
Contact us for a quote
Projected Wayfinding Plaques are designed for mounting to flat walls or posts, with plaques and brackets cast in one piece – or to round posts, with the addition of a secondary cast hardware accessory. Cast as a single or double sided plaques, in aluminum or bronze – available in most standard plaque finish options – up to 10"high x 20"long x around ½"thick. Mounting hardware not included.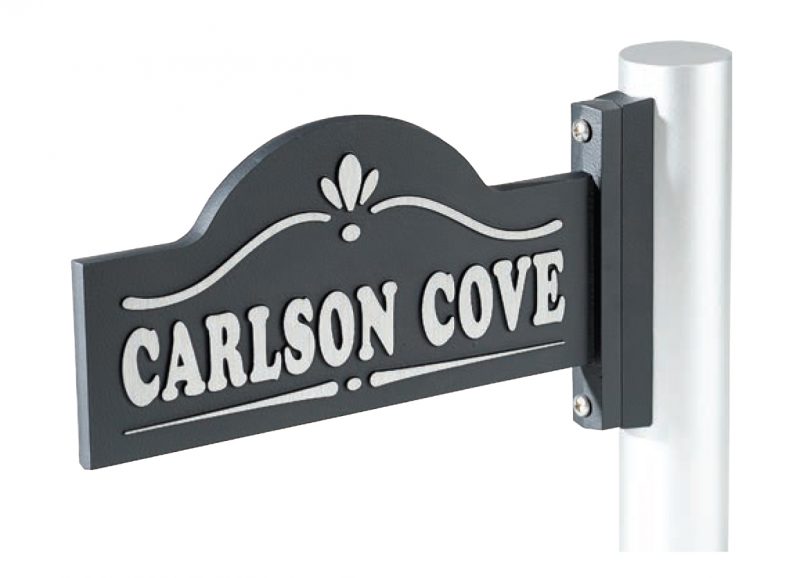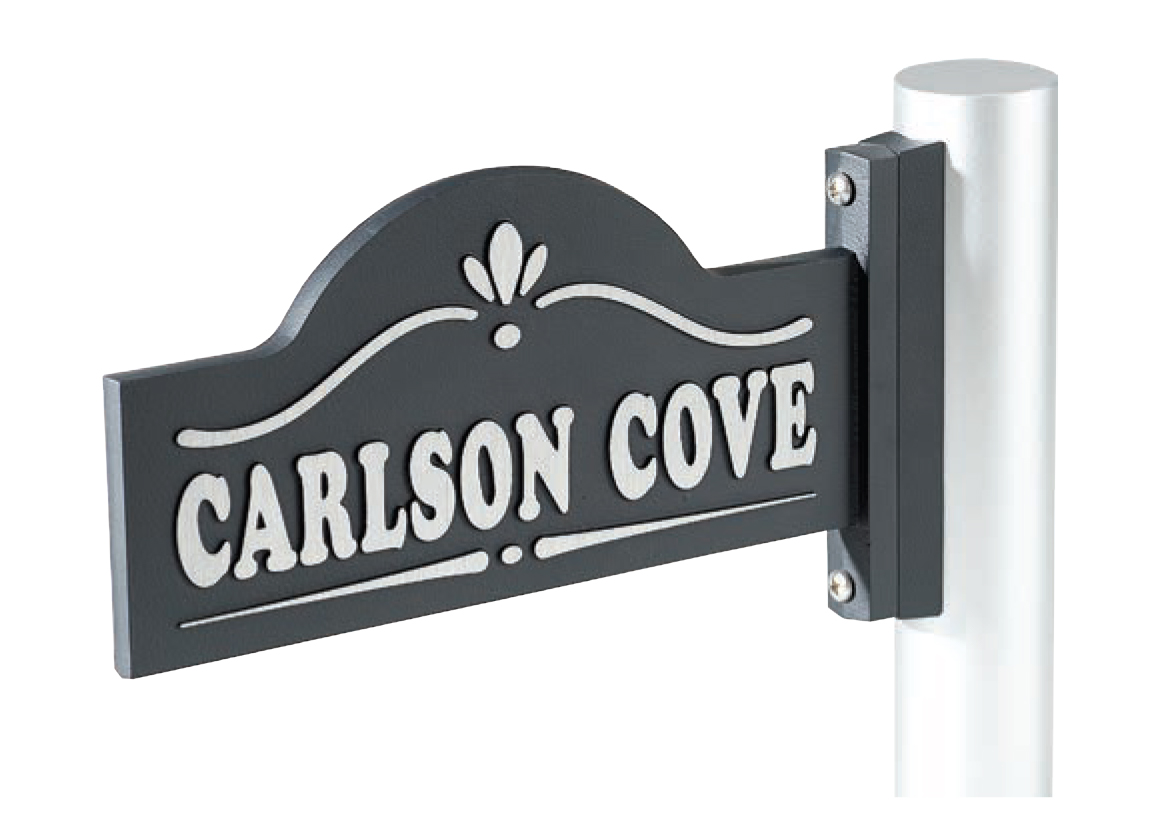 Bas Relief
Starting at +$1656
We start with a photograph. (Although we can use almost any quality photograph, the better the image, the better the modeling effort.) The finished image will be an artist's interpretation of your photograph. An image of the clay model is sent to you via email for your comments or approval. When approved, the clay model is used for the cast bronze or aluminum casting process. The bas relief is mechanically attached to the cast plaque background. (Standard overall height of 4" to 24" with a finished depth of 3/4" to 1". Requires a six-week lead time. Price does not include the cost of the plaque.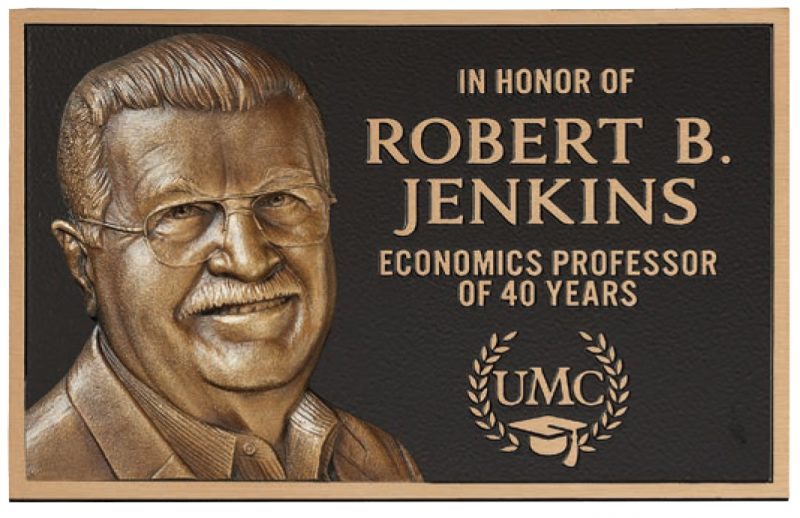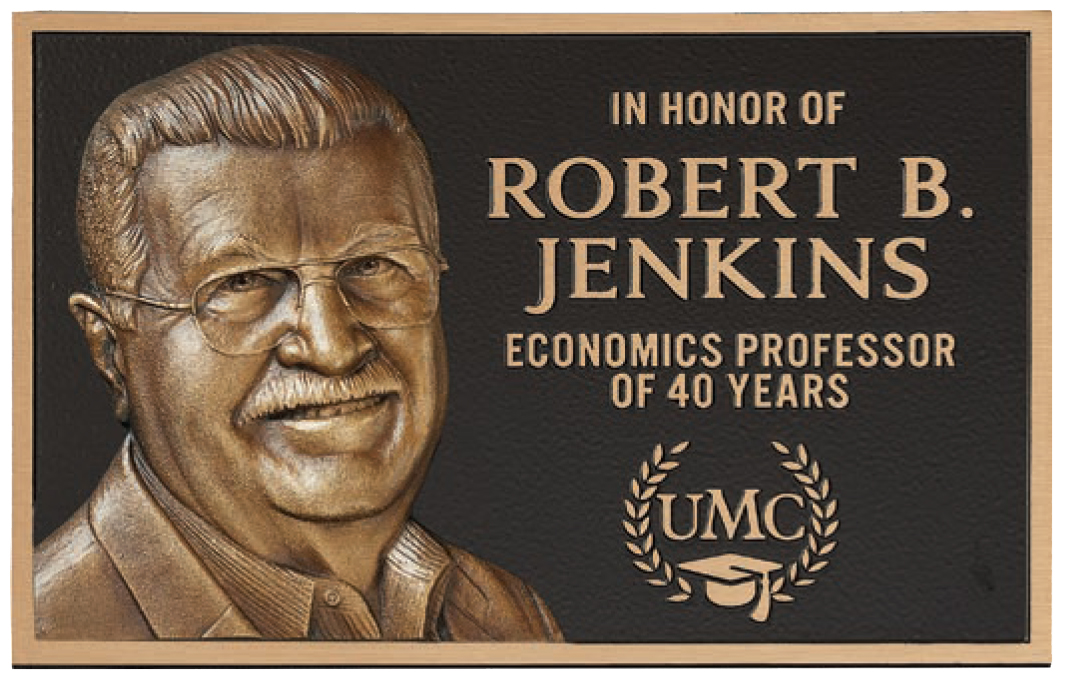 Flat Relief
Starting at +$385
An economic alternative to the bas relief, our flat relief plaques are two-dimensional images that are part of a plaque. The process starts with a good quality photograph or illustration from which our artists create a black and white rendering. Suitable for interior or exterior applications, they perfectly fit the bill when your plaque requires a portrait but the budget won't allow for bas relief. Price does not include the cost of the plaque.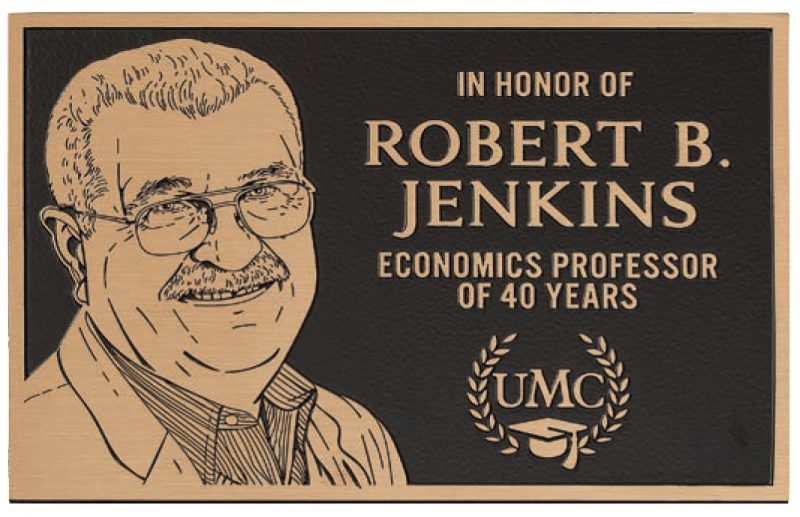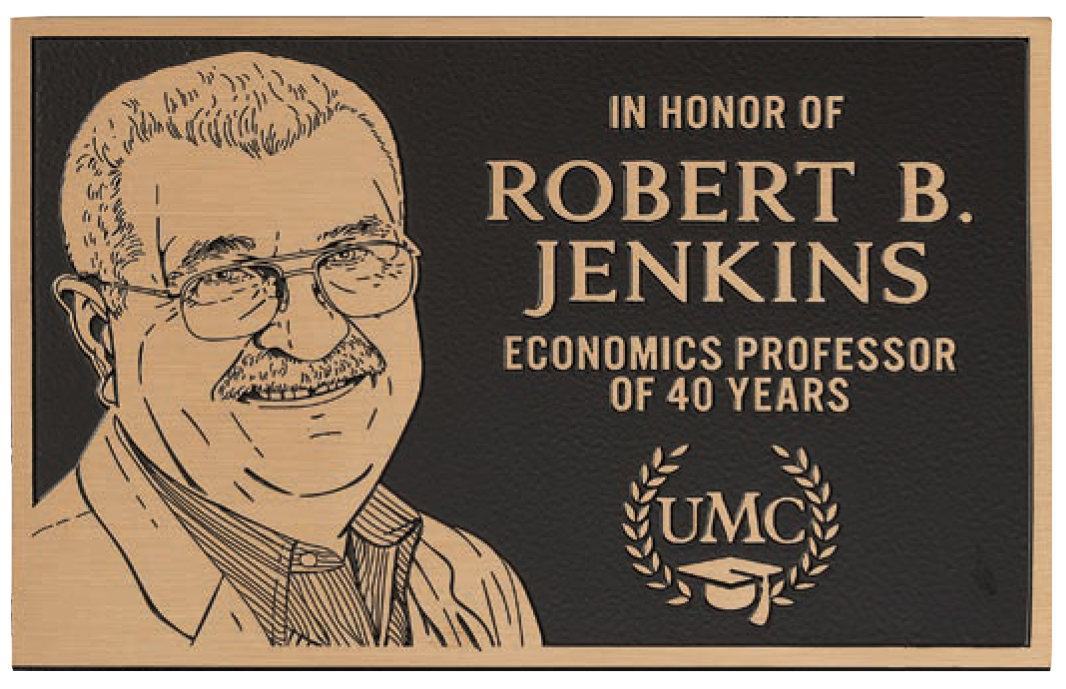 PhotoRelief™
Starting at $300
A seamless blend of casting and photography, PhotoRelief™ is perfectly suited for unique signage, historical markers, or any plaque that needs to tell a story with words and pictures. Through innovative technologies, we can use one or more photographs to create a simple and elegant plaque or a breathtaking collage that illustrates the saying "a picture is worth a thousand words." (High quality / resolution photo required) Up to 36" x 24". Additional lead time may apply.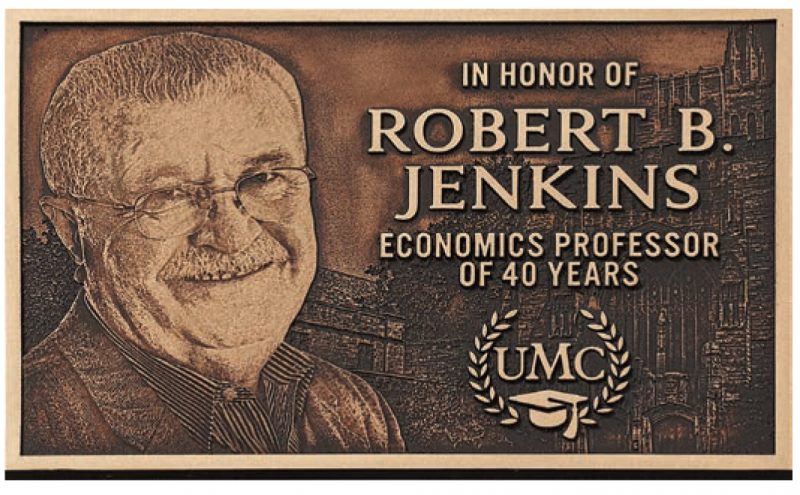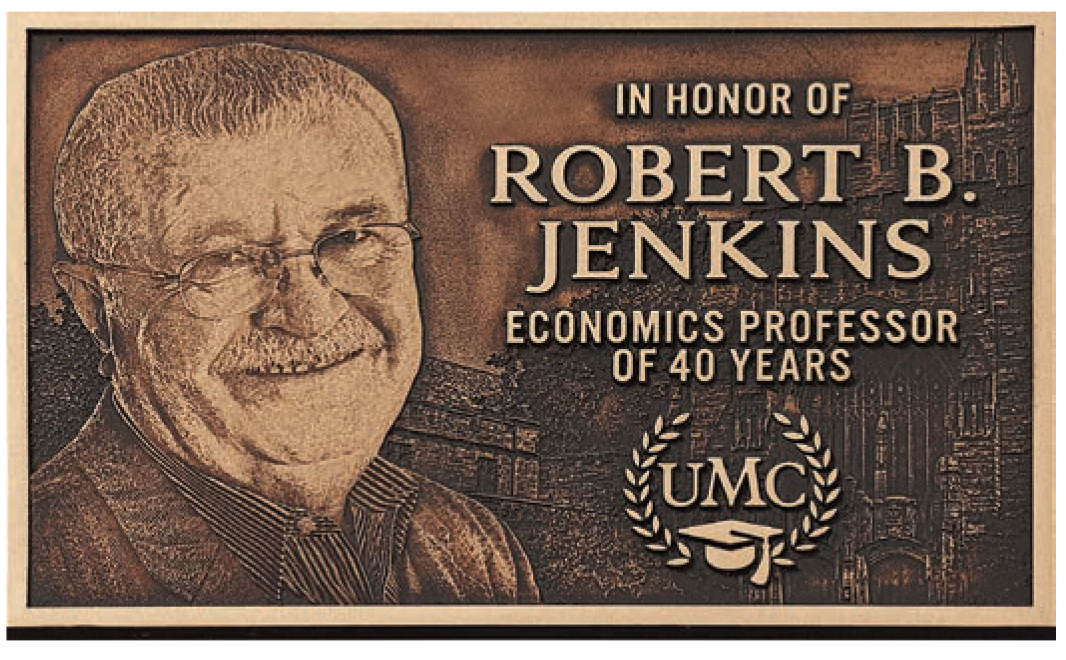 Etched Portrait on Metal
Starting at +$390
The etching process allows you to forever replicate your photograph, line drawing or complex artwork in beautiful detail. This method utilizes a halftone dot pattern made from a 50-line screen. Halftone portraits resemble newspaper photographs, and have visible dot patterns. The etched, recessed dots are filled with black paint to contrast with the brushed finish of the metal background. The best photographs for halftone etched portraits have high contrast tones with bright white areas, dense black areas and minimal gray tones. (Photos that are monotone or have muted colors will produce poor halftone etchings.) Does not include the cost of the plaque.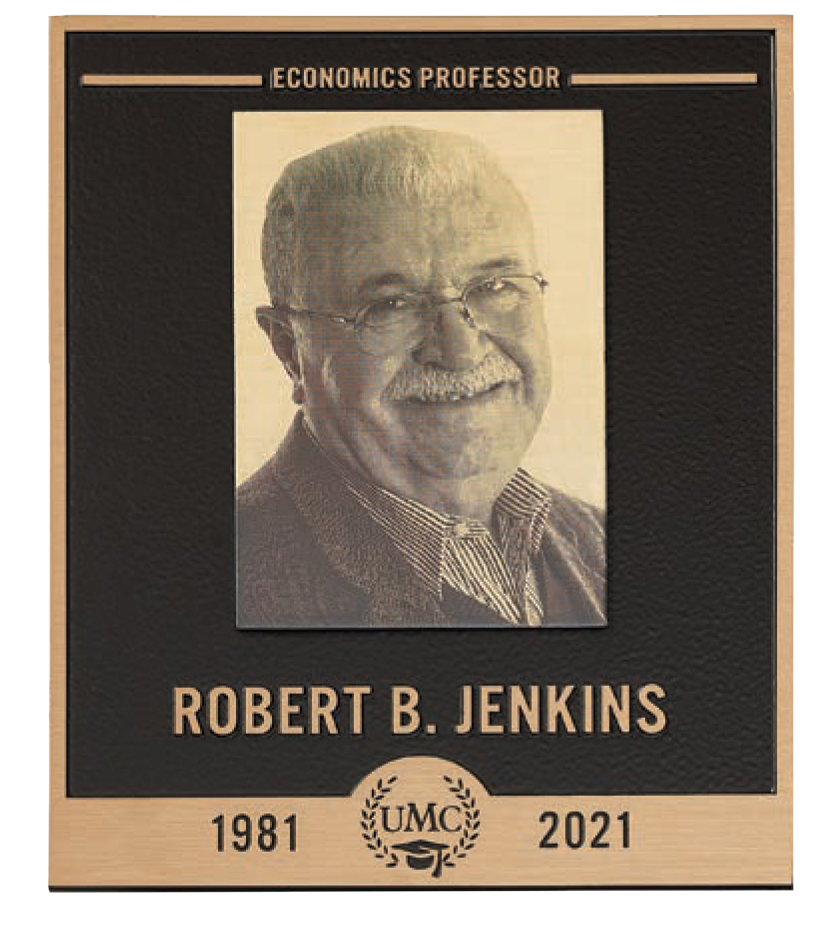 UV Print Insert
Starting at $90
For interior applications only. We can apply your images as inserts into your architectural plaques. Our hi-resolution printers render UV-cured, non-elastic inks at up to 1200 dpi. The combination of our high-resolution printing and premium base materials results in a picture perfect product that is excellent for all indoor applications. Up to 10" x 10"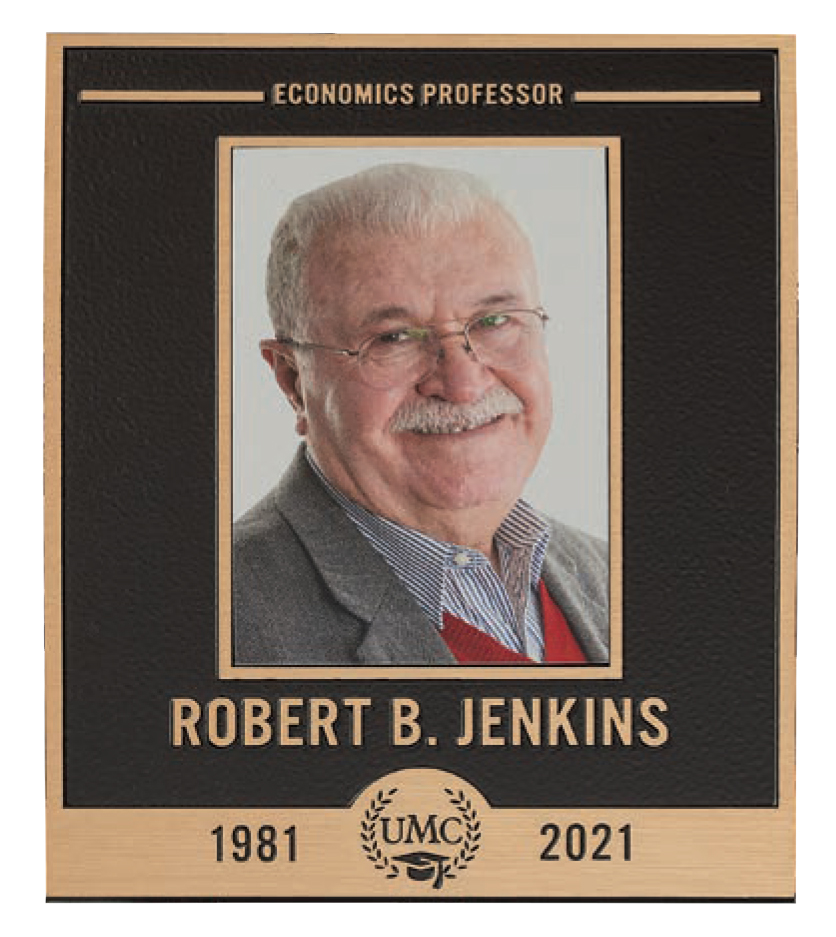 Oval & Rectangular Ceramic Inserts
Starting at +$343
Precision/Cast sign options. A standard-sized blank base with a full-color digital transfer applied to the blank. Additional lead time may apply.