US Coast Guard Academy Plaque
This Coast Guard Academy Plaque is a smaller version of the Coast Guard plaque for the Coast Guard Academy in New London, CT. Check it out here on our blog. We can do just about any military plaque you like.  Whether you would like plaques representing Army, Navy, Air Force, Coast Guard Auxiliary, Reserves, National Guard, or Marines. We can do it for these or any other service or branch. Email or call us with your needs.
You might also be interested in our other Military and Service Plaques.
Coast Guard Academy Sign
In 2009 Atlas Signs and Plaques was asked to construct a plaque for the Coast Guard Academy in new London Connecticut so that it could be displayed in time for graduation ceremonies that year.  We used a unique design presented by the Coast Guard and we created a gorgeous, 5-foot diameter cooper plaque.
Here is a photo of the finished copper plaque.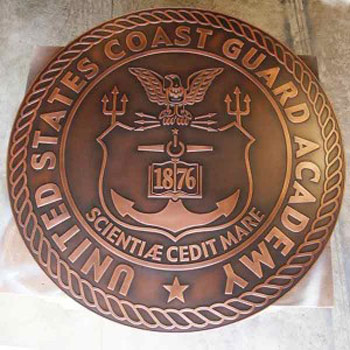 The version that we can make for you is smaller, but just as beautiful. You can choose from as small as 10 inches in diameter to as large as 24 inches in diameter.
Our Pewter, Brass, Bronze, Bronze Verdi, Copper, Copper Verdi, and Silver Nickel plaques are made from some of the most durable materials available in the sign making industry. We use a 30 pound HDU sign board and a real metal finish.
These military plaques are perfect for the home or office and are suitable for interior and exterior use. They will never rot, splinter, or support mold and insects. Our Colorado craftswomen, craftsmen, designers, and artisans use 100% USA made materials and pay special attention to honor our servicemen and women with these unique plaques. American Veterans or those still serving will appreciate the detail we are able to incorporate into our metal finish.